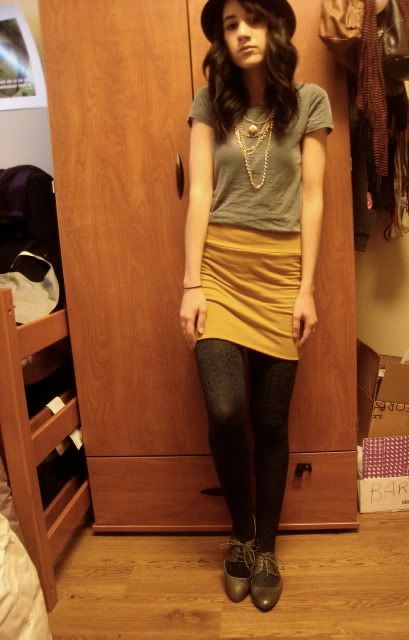 t-shirt: forever 21 24.00$, bandage mini: lux 40.00$, patterened tights: UO 14.00$, cutout oxfords: Jefferey Campbell, 98$
Above is one of the few and random times I actually had a moment to snap an outfit photo. I need to learn to start carrying my camera around with me.
Wow, is anyone as stressed out as I am? I feel like within the span of two weeks I have attempted to become super woman, and joined about a million and one organizations/commitments/resume boosters.
Good news is, one of these commitments is a fashion show where clothing and jewlery designers from around the state are participating in. It is not a super huge production, but it's my first time organizing a fashion show! I'll be sure to post pictures of this. :)
I went home to Dallas this weekend, and did some major damage to my bank account. It's a new season so thats aloud though, right? My lovely older brother/world traveler was home this weekend. He came back from Norway, and I was VERY proud to see him with new purchases that his gorgeous new swedish friend got him. He's back in Norway today, and I am so jealous. Any of you girls living in Norway or Sweden, please tell me where I should tell him to shop for me
The last photo is something fashionable and yummy too. These are actually chocolate shoes. I couldn't resist taking a photo.